Oven-Baked New Zealand Salmon Fillet with Lemon-Almond Crust and Beetroot Dill Salad
by Daniele Sarno
Savour the true taste of seafood at its finest with Chef Daniele Sarno's Oven-Baked New Zealand Salmon Fillet with Lemon-Almond Crust and a refreshing Beetroot Dill Salad. It's a seafood-lover's delight!
Cuisine : Mediterranean Course : Main Skill Level : Novice
Prep : 20 mins Cook : 20 mins Ready in : 40 mins Serves : 4

---
INGREDIENTS:
600 g New Zealand Salmon fillet
15 ml Extra virgin olive oil, plus more as needed
1 Lemon, halved crosswise
Maldon Salt and freshly ground pepper
1 tsp Grain mustard
2 slices Wholemeal bread
75 g Whole almonds
50 g Spring onions
25 g Capers
40 g Seedless black olives
1 clove Garlic, crushed
Fresh dill leaves
3 Beetroots, sliced
4 tsp Lemon zest, finely grated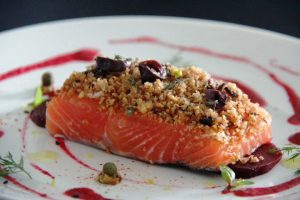 DIRECTIONS:
Pre-heat the oven to 230 C. Place the fish, skin side down, on the pan; brush with olive oil and squeeze the juice from the lemon halves over the fish. Season with salt and pepper, and then spread the mustard lightly over the fillets.
Tear the bread into 1-inch pieces. Place in a food processor and grind to fine crumbs.
Transfer 30 g of the breadcrumbs to a small bowl. Grind the almond coarsely in the processor; add to the bowl with the crumbs. Mix in the spring onions, lemon zest, capers, crashed garlic, chopped black olives, basil leaves and 1-tablespoon oil. Season with salt and pepper.
Wash and drain the Beetroots, cut into thin slice, season to taste and set aside.
Just before baking, divide the breadcrumbs mixture among the fillets, pressing onto the top of each piece. Bake until the fish is just springy to the touch and the breadcrumbs start to brown, about 10 minutes, depending on the thickness of the fish.
Transfer the fish to plates and serve right away with the Beetroots salad.