d
How will you serve your potatoes this Christmas? If rich and creamy is your thing, try this indulgent gratin – you'll be left wanting more! #QuickBites
Cuisine : European Course : Appetzer Skill Level : Novice
Prep : 20 mins Cook : 60 mins Ready in : 80 mins Serves : 6-8 Servings
---
INGREDIENTS:
1kg Potatoes, peeled and sliced into 3mm slices
3 tbsp All Purpose Flor
3 tbsp Unsalted Butter
1 1/2 cups Whole Milk
1/2 cup Heavy Cream
2 tbsb Fresh Thyme
Few Leaves of Sage
2 cloves Garlic
Pinch of Grated Nutmeg
1 1/4 cups of Gruyere Cheese, grated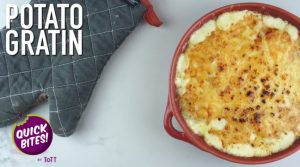 DIRECTIONS 
Preheat your oven to 200C, grease a baking dish with some butter and set aside.
Place half of your potato slices evenly in your buttered baking dish and set aside.
Melt butter over medium heat in a saucepan, then add the flour and stir together for about until combined.
Add the milk, cream, thyme, sage and garlic, bring to a simmer and cook until thickened. Season with some salt, pepper and nutmeg. Using a sieve, remove the garlic and herbs once the sauce is done.
Pour half of the cream sauce over the potatoes, repeat with the last layer of potatoes and cream, cover with aluminum foil and bake for 45 minutes.
Remove foil, scatter the cheese all over the top and finish baking the potatoes for 15 minutes or until golden brown and bubbly.