A mouth-watering Ragu that requires little effort but yet looks like a dish right from a restaurant? It's possible, thanks to this recipe by GroXers – all the hard work is done in the pressure cooker! This flavourful combination of pork belly and anchovy fillets is great served over rice too. Consider serving the rest of the wine at the table and you'll be in for a sumptuous treat!
Cuisine : European Course : Main Skill Level : Novice
Prep : 20 mins Cook : 60 mins Ready in : 80 mins Serves : 4-6

---
INGREDIENTS:
500g Pork Belly
4 – 5 Flott Anchovy Fillets
1 Bay Leaf
250ml Red Cooking Wine
150ml Port Wine
3 medium Yellow Onions
1 bulb of Garlic
400g Divella Orecchiette, uncooked
Cornish Sea Salt Co Sea Salt Flakes and Ground Black Papper to taste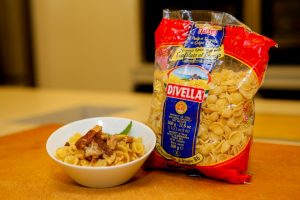 DIRECTIONS:
Boil pork belly in salted water to remove impurities.
Dry the pork and pan sear on all sides.
Sauté anchovies and onions in a pressure cooker until onions are translucent.
Add the rest of ingredients into the pot and seal the pressure cooker.
Once the cooker has been pressurized, start timer for 45 min.
Sauce is ready once cooker has been de-pressurized.
Cook orecchiette 1-2 min below manufacturer's recommended cooking time. Toss into the sauce for 1 min more, ensuring pasta is evenly coated with the sauce.
Add salt and pepper to taste.