Poached Figs with Parma Ham, Fresh Mozerella Cheese and Rocket Leaves
by Eric Low

This deliciously refreshing Poached Figs with Parma Ham and Mozzarella Cheese salad will blow your taste buds away! It is sweet, savoury and creamy all in one bite.
Cuisine : European Course : Appetizer Skill Level : Novice
Prep : 15 mins Cook : 10 mins Ready in : 25 mins Serves : 4

---
INGREDIENTS:
1 pc Cinnamon Stick
4 pcs Cloves
200 ml Water
75g Sugar
1/2 no Lemon
1 Figs, sliced
4 tbsp Red Wine Vinegar
8 tbsp Extra Virgin Olive Oil
Salt and Pepper to taste
100 g Rocket Leaves or Mixed Greens
2 slices Parma Ham Slices
1 Fresh Mozzarella, cut into cubes
30 g Shaved Parmesan Cheese
30 g Chopped Walnuts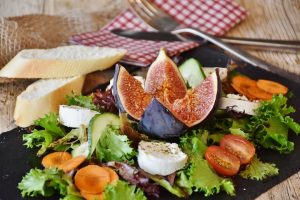 DIRECTIONS:
Combine spices in pot with water, sugar and lemon. Bring it to boil and add the sliced figs. Remove pot from heat when the poaching liquid boils up again and allow the figs soak in the poaching liquid.
Cool and chill in fridge.
Combine red wine vinegar and olive oil. Season dressing with salt and pepper to taste. Set aside.
Divide salad leaves into four portions. Arrange poached figs, parma ham and fresh mozzarella on salad greens. Drizzle the dressing over and sprinkle on shaved parmesan and chopped walnuts before serve.