Devour this classic, flavourful Joshu Wagyu Beef served with Truffle Caviar and Parmigiano Cheese!
Cuisine : European Course : Appetizer Skill Level : Novice
Prep : 10 mins Cook : 0 mins Ready in : 10 mins Serves : 2

---
INGREDIENTS:
150 g Joshu Wagyu beef
1 tsp Sun dried tomatoes
1 tsp Capers
1 tsp Dijon mustard
1 pc Egg yolk
Pinch of Salt
Pinch of Pepper
30 ml Extra virgin olive oil
Pinch of Chives
Truffle caviar for garnish
Crostini for garnish
Parmigiano cheese for garnish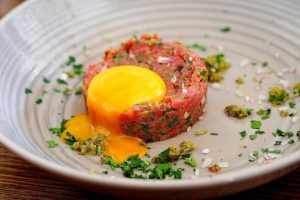 DIRECTIONS:
Mince the Wagyu beef and place in a bowl.
Chop the sundried tomatoes, capers and chives and mix together with the beef tartare.
Add in the egg yolk, extra virgin oil, dijon mustard, salt and pepper.
Place the tartare in a mould and lightly press it.
Garnish with truffle caviar, crostini and parmigiano cheese.