Impress your guests with this chocolate cherry layered cream cake by Chef Julie – add in the rum for a special touch and added flavour!
Cuisine : Baking Course : Dessert Skill Level : Novice
Prep : 90 mins Cook : 30 mins Ready in : 120 mins Serves : 6-8

---
INGREDIENTS:
For the Chocolate Sponge Group 1 (Sifted together)

80g Cake Flour
2 tbsp Cocoa Powder

Group 2 (Beat together)

4 no. Egg
4 no. Yolk
100g Fine Sugar
1 tsp Vanilla Extract

Group 3

50g Warm Oil
50g Warm Milk
1 tsp Chocolate Paste

For the Chocolate Mousse

80g Coveture Chocolate
1 no. Egg Yolk
160g Whipped Cream

For the Chantilly Cream

250g Fresh Whipping Cream
2 tbsp Fine Sugar
½ tsp Vanilla Extract
1 tsp Rum (if use)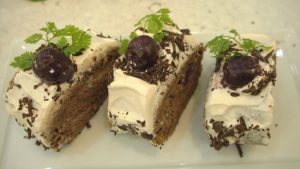 DIRECTIONS:
         For the Chocolate Sponge
Sift Group 1 together.

Beat the egg white and sugar till peak.

Add in the yolks and whisk till fluffy.

Fold in Group 1 by hand.

Add in Group 3 & fold in by hand.

Bake at 200ºC for 12-15 mins.

For the Chocolate Mousse

Melt the dark couveture over a double boiler (saucepan with simmering water).

Take away from the heat and add in the egg yolk and whisk until the couveture has fully melted.

Measure and whip 160 g (5.6 oz.) of the heavy cream again to a uniform consistency.

For the Fresh Chantilly Cream

Brush cake with the cherry syrup.

Spread the mousse on top.

Arrange the cherry on the roll.

Fold the bottom part of the sponge with the baking paper. Then lift the baking paper and roll up the cake. Use a long ruler to tighten the roll.

Divide roll into thick pieces. Decorate with swirls of whipped cream, chocolate flakes and cherries.