Chia seeds are a protein-packed super food which is great for breakfast! Try this delicious chia seed pumpkin pudding recipe for a healthy on-the-go breakfast!
Cuisine : European  Course : Dessert Skill Level : Novice
Prep : 10 mins Cook : 40 mins Ready in : 50 mins Serves : 1

---
INGREDIENTS:
50g Yogurt
200g Organic pumpkin or butternut squash puree
1 tbsp Organic pure maple syrup
¼ tsp Cinnamon powder
Vanilla pod or vanilla essence
1 tbsp Chia seeds
Shredded coconut
Sliced banana
Pumpkin seeds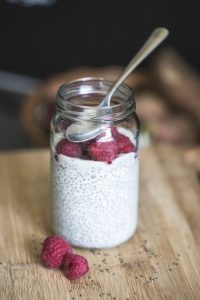 DIRECTIONS:
In a pot, bring a water to boil.
Remove the skin and seeds from the butternut squash. Slice it all.
Blanch the pumpkin for about 5 minutes. Drain off and mash it with the back of a fork.
In a large bowl, whisk together the yogurt or coconut milk, pumpkin puree, maple syrup, cinnamon, and vanilla extract.
Add the chia seeds and whisk again until very well combined.
Refrigerate for at least 2 hours, or until the chia seeds have plumped.
Pour into jars and sprinkle with toppings of choice.
Optional toppings include: Coconut, pumpkin seeds, or sliced bananas.
Enjoy immediately, or store in the fridge, covered, for up to 5 days.