Enjoy the ultimate brunch with this healthy poached eggs with Smoked Salmon and creamy Avocado Mash with Chef Susanne Despature!
Cuisine : European Course : Main Skill Level : Novice
Prep : 10 mins Cook : 15 mins Ready in : 25 mins Serves : 4

---
INGREDIENTS:
4 slices Rye Bread or Wholemeal Bread, toasted
4 slices Smoked Salmon
Avocado Mash
2 no. Ripe Avocados
1 no. Lime or Lemon Juice
1 tbsp Sour Cream
Salt & Pepper
Poached Eggs
1l Water
10cl Cider Vinegar
4 no. Fresh big eggs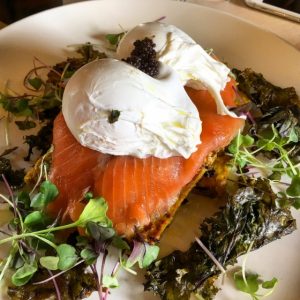 DIRECTIONS:
Cut the avocado in two, spoon out the flesh an d mix with lime juice and sour cream until you get a cream, using a fork. Season to taste with salt and pepper. Cover with cling wrap, refrigerate until use.

Poached Eggs

Bring water and vinegar to a boil in a large pan. The vinegar helps egg whites to coagulate. Break egg into a small bowl, then add into the boiling water. With a tablespoon, wrap egg white around the egg yolk. Reduce heat and let simmer for 2 mins.
Take out the poached egg and place into iced water. Transfer to a plate covered with kitchen towels.
Arrange some avocado mash on the toasted rye bread. Garnish with smoked salmon and poached egg, add some cress.