Learn to prepare Chef Eric Low's version of Chaozhou Yam Cake! His twist? A medley of his special sauce and condiments that will leave you wanting more! 
Cuisine : Asian Course : Appetizer Skill Level : Novice
Prep : 20 mins Cook : 50 mins Ready in : 70 mins Serves : 6(~1.5kg)

---
INGREDIENTS:
For the Yam Cake 

300g Rice flour
50g Corn starch
250g Thai Yam, shredded or diced
25L Water
1 tbsp Sugar
1 tsp Salt
1 tsp Five spice powder
1 tbsp Alkaline water

For the Topping

4 tbsp Oil
70g Dried shiitake mushrooms, soaked and diced
250g Dried chinese sausage, diced
4 stalks Spring onions, finely diced
4 tbsp Crispy fried shallots
100g Dried shrimp flakes (Hay Beo), fried toasted sesame seeds

For the Penang-Style Yam Cake Sauce

2 tbsp Sesame paste or peanut butter
200ml Hot water
300g Sweet bean paste (for Chee Cheong Fun)
4 tbsp Sesame oil
2 tbsp Penang shrimp paste (Hae Ko)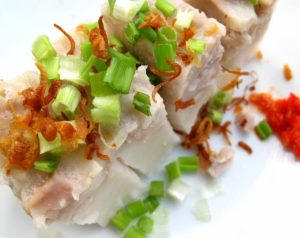 DIRECTIONS:
In a large mixing bowl, combine rice and cornstarch together. Pour in water and adjust taste with sugar, salt and five spice powders. Mix in the alkaline water.
Bring the starch mixture to boil and transfer to steaming mould. Steam for 45minutes till cooked. Allow yam cake to cool down slightly before cutting up to serving sizes.
Heat oil and sauté mushrooms and Chinese sausages till fragrant. Spoon over yam cake and sprinkle on with the mixture of fried shallots, crispy shrimp flakes and sesame seeds. Serve with Penang style yam cake sauce on the side.