Keep yourself full until lunchtime with this nutritious breakfast boost! Delicious, creamy avocado serves as a great alternative to butter, and goes perfectly with a runny poached egg! #QuickBites
Cuisine : European Course : Main Skill Level : Novice
Prep : 10 mins Cook : 45 mins Ready in : 55 mins Serves : 1 Serving
---
INGREDIENTS
2 Eggs
2 Slices Whole Grain Bread
1/3 Avocado
2 tbsp Shaved Parmesan Cheese
Salt and Pepper for Topping
Fresh Herbs (Parsley, Thyme or Basil) for topping
Quartered Heirloom Tomatoes for serving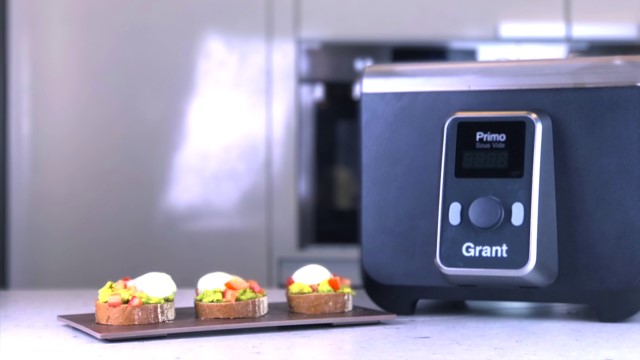 DIRECTIONS:
Using Grant Primo Sous Vide Water Bath, start cooking the eggs at 62℃ for 45 minutes.
In the mean time, toast the bread and smash the avocado on each piece of toast.
Put fresh quartered heirloom tomatoes above the avocado.
When the eggs are done, place it on top of the toast and sprinkle it with Parmesan cheese, salt, pepper and fresh herbs.