The chicken is simmered with shallots, garlic and ginger for half an hour. Chicken can be "exfoliated" by rubbing salt all over the meat to remove any trapped dirt on the skin. Poaching the chicken ensures the tenderness of the meat.
Cuisine : Asian Course : Main Skill Level : Novice
Prep : 5 mins Cook : 30 mins Ready in : 35 mins Serves : 10

---
INGREDIENTS:
4 litres of Water
110g Whole Shallots
50g Whole Garlic
30g Ginger (sliced)
1 Whole Chicken (~1.8kg)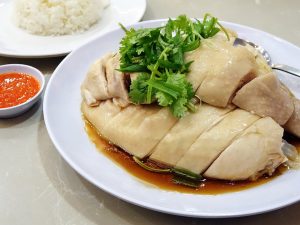 DIRECTIONS:
Bring water to boil, add shallots, garlic and ginger. Put chicken in and reduce fire to a slow simmer. Cook for 30 minutes.
Remove chicken from pot and shock in ice cold water until completely chilled.
Debone the chicken and arrange chopped chicken meat on a serving plate. Serve with ginger and spring onion confit, rice, chili sauce and coriander leaves.