Grilled Salmon in Sundried Tomato Crust with Baked Prawn Fritters
by Michele Ow

Start your healthy lifestyle with this melt-in-your mouth Sundried Tomato Crusted Grilled Salmon with the delightful Baked Prawn Fritters recipes by Chef Michele Ow!
Cuisine : European Course : Main Skill Level : Novice
Prep : 20 mins Cook : 30 mins Ready in : 50 mins Serves : 4

---
INGREDIENTS:
4 pieces of Salmon – pat dry
1/2 cup Semi Sun Dried Tomatoes
Coriander Leaves
1-2 large Green Chilies
2 cloves Garlic, minced
1/2 Lemon Juice & Zest
Salt & Pepper
8 fresh Prawns, deveined
1/2 cup Plain Flour
1 tbsp Desiccated Coconut
1/2 tbsp Cayenne
1 Egg, beaten
1/2 cup Panko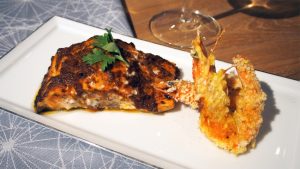 DIRECTIONS:
Salt and pepper salmon lightly.
Mix semi sun dried tomatoes, coriander leaves, green chilies, minced garlic, lemon juice & zest to make the crust paste.
Skin side up, smear crust paste unto other side.
Bake salmon for 20 minutes at 180C.
Preheat oven to 180C for the battered prawns.
One at a time, roll the egg in the flour, dip in beaten egg, then roll in breadcrumbs (Plain flour, desiccated coconut, cayenne powder and panko).
Bake prawns for 8 minutes.
Serve hot.