If you intend to try japanese recipes, do not miss this recipe for sushi rice. The vinegar rice is first cooked with kombu (also known as kelp) then drizzled with vinegar mixture which has vinegar, sugar and water. The rice used is short-grained which gives a sticky texture when cooked.
Cuisine : Asian Course : Main Skill Level : Novice
Prep : 10 mins Cook : 25 mins Ready in : 35 mins Serves : 2

---
INGREDIENTS:
200g Short Grain Rice (washed and drained)
300ml Water
1 small piece of Kombu
50ml Japanese Rice Wine Vinegar
50ml Water
30g Sugar
½ tsp of Salt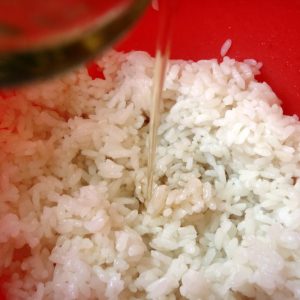 DIRECTIONS:
Cook rice with water and kombu.
Mix vinegar, sugar and water together.
Fluff the cooked rice, sprinkle on salt and drizzle with the vinegar solution.
Toss evenly and keep warm.