With Chinese New Year just around the corner, bake these delightful Pineapple Tarts by Chef Vivian Pei to share with friends and family! These treats are so good you'll want to keep popping them into your mouth! 
Cuisine : Baking Course : Dessert Skill Level : Novice
Prep : 60 mins Cook : 15 mins Ready in : 75 mins Serves : 6-8

---
INGREDIENTS:
For the pineapple filling

2 pineapples, peeled and sliced
1 cup sugar (more or less depending on how sweet pineapple is)
1 tbsp lemon juice
1 cinnamon stick
4 cloves
1 star anise

For the pastry

400g plain flour
50g cornstarch
80g icing sugar
¼ tsp salt
50g finely grated cheddar cheese
250g cold, unsalted butter, cubed
3 egg yolks
3 tablespoons ice water

Glaze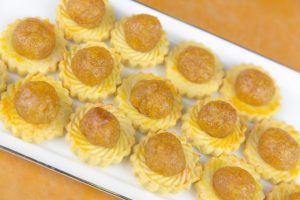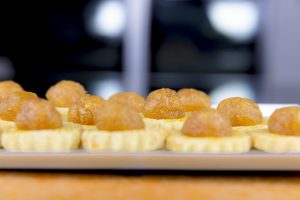 DIRECTIONS:
         To make the filling
Grate the sliced pineapple and drain out excess liquid.

Put the pineapple, sugar, and lemon juice into a heavy-based saucepan and bring to a boil.

Add the spices, turn down the heat and let it simmer for as long as it takes for jam to thicken, usually 45 minutes or so. You need to keep stirring to make sure the jam does not catch and burn. When ready, the jam will be quite thick and dry and easily rolled into a ball.

Fish out the spices and roll the jam into balls to fit your mould.

To make the pastry:

Sift flour, cornstarch, sugar and salt into a medium sized bowl. Gently mix in the grated cheese.

In a large mixer bowl, cream the butter and powdered sugar just until blended, being careful not to over mix.

Add the egg yolks one at a time, mix well after each addition.

Add the dry ingredients and fold in with a spatula until most of the flour is incorporated. Sprinkle in the ice water and knead gently to combine.

Turn the tart dough onto a sheet of plastic wrap and flatten into thick disk. Let the dough rest in the refrigerator for about 30 minutes.

Preheat the oven at 180°C. Roll the dough out on a lightly floured surface to desired thickness, about 5mm. Stamp out with the desired cutter.

Place the stamped out dough on a baking silicon mat. Fill the centre with pineapple jam balls.

Glaze with the egg wash and bake for about 15 minutes or until light golden in colour.