This is a simple and authentic chicken curry dish that is best served with steamed rice!
Cuisine : Asian Course : Main Skill Level : Novice
Prep : 20 mins Cook : 55 mins Ready in :  1 hr 15 mins  Serves : 4 servings
INGREDIENTS
1kg Bone-In Chicken Thigh
2 tbsp Curry Powder
1 tsp Salt
Wet Sempah (Spices)
200g Shallots
10 Cloves Garlic
2 tbsp Dried Chili Paste
10 slices Galangal (30g)
1 stalk Lemongrass, bottom part, sliced (use scissors)
Half Kaffir Lime Peet
2 sprigs Coriander Roots (washed)
15g Belachan
Dry Rempah (Spices)
3 tsp White Peppercorn
1 tsp Roasted Coriander Powder
1 tsp Cumin Powder
Garnish
Few Kaffir Lime Leaves (julienned)
Fried Shallots
Fresh Cilantro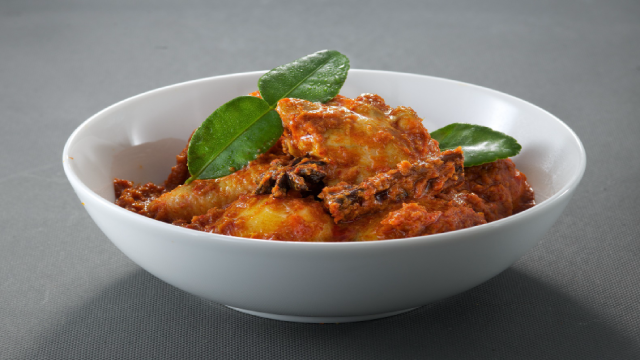 DIRECTIONS:
Directions 1:
Blend the wet and dry spices separately then combine them.
Stir-fry on a wok with Grapeseed Oil till fragrant.
Set aside.
Directions 2:
Marinade the cut-up chicken pieces with the curry paste mix and salt.
Transfer the mixture into the Mayer Pressure Cooker.
Add the marinated chicken, roughly-torn kaffir lime leaves and coconut powder into the pot; stir to combine everything.
Close the lid; use the Menu button to select the option "Chicken", then the Mode button to select "Fast", and finally the Pressure button to select "7".
When the cooking cycle finishes, quick-release the steam from the pressure cooker. Transfer the food to a serving plate, then garnish with the fried shallots, julienned kaffir lime leaves and cilantro.
SHIOK SHIOK with Roti Peranchis (French loaves) or simply with steamed rice.