This dish is spicy, rich and creamy which includes beef, spices and coconut milk. It is arguably one of the most popular dish in Asia!
Cuisine : Asian Course : Main Skill Level : Novice
Prep : 15 mins Cook : 60 mins Ready in :  1 hr 15 mins  Serves : 4 servings
INGREDIENTS             
300g Shallots, grounded
2-3 cloves Garlic, grounded
5 Fresh Red Chilli, grounded
8 slices Galangal, grounded
2 slices Ginger, grounded
6 slices Turmeric, grounded
2 stalks Lemongrass (1 to crush only)
8 pcs Candle Nuts (BuahKeras)
2 tsp Lee Kum Kee Fine Shrimp Sauce (Belachan)
250ml Coconut Milk (Kara Brand is ok)
6 pcs Kaffir Lime Leaves
750ml Water
1-2 tbsp BabaLicious Homemade Curry Powder
To taste- Salt and Palm Sugar
1kg Beef (cut in large cubes)
Half packet Kerisik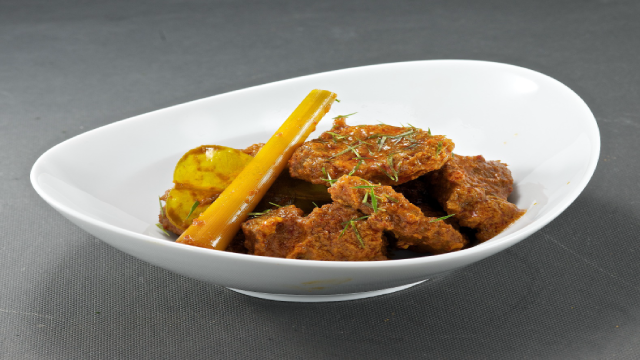 DIRECTIONS:
On a heated green-pan wok with cooking oil, stir-fry the grounded ingredients and kaffir lime leaves till fragrant.
Add the beef cubes while stirring to seal the meat with the slices. Then add the water/chicken stock and simmer till meat tenders.
Add coconut milk, use lower fire and adjust flavour with sea salt and sugar to taste. Turn off the flame.
Garnish it with fine Turmeric leaves.
SHIOK SHIOK with Roti Prata or simply with steamed rice.