Delicious juicy meatballs made from minced chicken, coated with a layer of egg and dressed in ranch, panko bread crumbs, garlic & salt! #QuickBites
Cuisine : Western Course : Appetizer  Skill Level : Novice
Prep : 30 mins Cook : 10 mins Ready in : 40 mins  Serves : 4 servings
---
INGREDIENTS             
700g Minced Chicken or Meat of your choice
1 stalk Celery, roughly chopped
½ Yellow Onion, roughly chopped
2 tbsp of Parsley Flakes/Fresh Parsley
1 Egg
3 tbsp Ranch Dressing
¾ Cup Panko Bread Crumbs
3 tsp Garlic Powder
Salt to taste
½ cup Buffalo Hot Sauce
½ cup Water
Olive Oil
Crumbled Blue Cheese for topping
Drizzle of Ranch for topping
Chopped Scallions for topping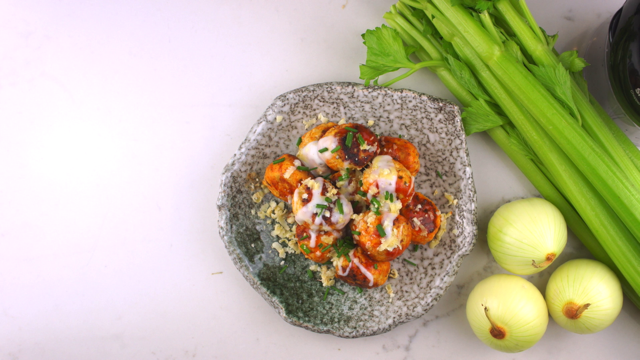 Directions:
In a Mini Processor, add the celery, onion and parsley and process till finely chopped.
Add the mixture into a large bowl with the minced chicken, egg, ranch dressing, panko bread crumbs, granulated garlic and salt. Mix till combined evenly.
Lightly oil a large plate. Form meatballs (~1.5 tbsp) using your hands (oil your hands to prevent meatball mixture from sticking to your hands) and place them on the oiled plate. Cover and place meatballs in fridge for 20 mins.
Add olive oil to a skillet and bring to medium heat. Sear meatballs until they turn brown. Add in buffalo sauce and water and cook for roughly 8 minutes or until fully cooked.
Plate meatballs and scatter toppings.
Serve!