Pasta with Zucchini, Fresh Shrimps in a White Wine Tomato Broth
by Eric Low

Here's how to make gooey, cheesy, garlicky pull-apart bread, one step at a time! Addictively buttery and cheesy with each piece and bursting with fresh herb and garlic flavours!
This simple but succulent pasta dish can make a satisfying portable lunch. Add fresh shrimps in a white wine and tomato broth for a truly satisfying meal!
Cuisine : European Course : Main Skill Level : Novice
Prep : 15 mins Cook : 10 mins Ready in : 25 mins Serves : 4

---
INGREDIENTS:
500g Long Pasta (Spaghetti, Linguine, Angel Hair), cooked al dente
200ml Extra Virgin Olive Oil
450g Peeled Large Prawns
2 tbsp Chopped Garlic
300g Zucchini (sliced)
4 Large Tomatoes (diced)
200ml White Wine
2 tsp Salt
1 tsp Coarse Ground Black Pepper
Water (from boiling pasta)
4 tbsp Chopped Parsley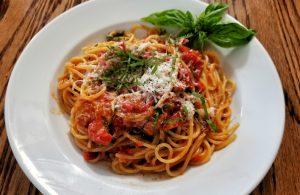 DIRECTIONS:
In a large pot of boiling water, cook pasta based on recommended cooking time on packaging label, minus 2 minutes. Retain some of the cooking liquid. Refresh pasta with water and drain.
Heat olive oil, sauté and prawns and garlic till fragrant, remove prawns and add zucchini and tomatoes and cook for another minute.
Pour in white wine and return prawns and pasta to pot. Add chopped parsley and season with salt and pepper and toss evenly.
Divide pasta into serving portions and serve.