Mua Chee is a type of cooked sticky rice dough coated with sugar, grounded peanuts and sesame seeds! Try this QQ Japanese QQ Mua Chee recipe from Chef Julie Yee for the perfect snack!
Cuisine : Asian Course : Appetizer Skill Level : Novice
Prep : 10 mins Cook : 15 mins Ready in : 25 mins Serves : 2-4

---
INGREDIENTS:
200g Glutinous Rice Flour
150g Hot Water
50g Fine Sugar
2 tbsp Oil
1 no Egg White
100g Fine Peanut
50g Fine Sugar
1 tbsp White Sesame Seeds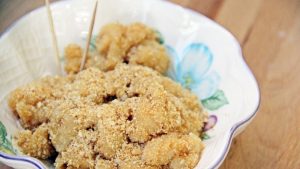 DIRECTIONS:
Boil water with sugar, oil and water.
Mix Glutinous Rice flour with hot syrup in the mixer for 5mins.
Steamed for 10mins or boil till dough float.
Transfer back to mixer and add in the egg white and whisk till shiny and elastic.
Wrap with fillings and coat with cooked glutinous rice flour or cut into pieces and coat with peanut mixture.