Indulge in this perfectly Seared Salmon Fillet topped with flavoursome Creamy Garlic Sauce that will leave you wanting more!
Cuisine : European Course : Main Skill Level : Novice
Prep : 20 mins Cook : 5 mins Ready in : 25 mins Serves : 4

---
INGREDIENTS:
60 ml Fish Stock
60 ml Dry White Wine
100 ml Liquid Cream, 35% fat
50 g Cold Butter
2 cloves Garlic, chopped or crushed
3 Ripe Tomatoes, diced
20 g Basil Leaves, finely chopped
Salt, Pepper, Lemon Juice
4 Thick Salmon Fillet, 120g per fillet, with skin
1-2 tbsp Grape Seed Oil
Salt & Pepper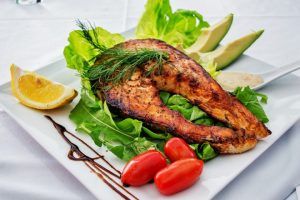 DIRECTIONS:
Bring fish stock and white wine to the boil in a small saucepan – let reduce to half of the initial quantity. Add cream and continue to simmer for some minutes.
Season to taste with salt, pepper and some drops of lemon juice, a hint of curry powder. Whisk in the cold butter in small amounts until you get a glossy, creamy consistency.
Add garlic, then just before serving, add diced tomatoes and chopped basil.
Heat some oil in a pan and start to pan-fry skin side first on high to medium heat for 2 minutes or until skin is golden & crispy.
Gently turn fish over and reduce heat to low.
Allow fish to cook through on the other side, turn off heat and let rest in pan for 2-3 minutes.