Learn how to make this fragrant Pandan Custard Agar Agar shared by Chef Julie Yee.
Cuisine : Asian Course : Dessert Skill Level : Novice
Prep : 10 mins Cook : 20 mins Ready in : 210 mins Serves : 10-12

---
INGREDIENTS:
1 pkt Agar Agar Powder
200 g Rock Sugar
900 ml Water
2 Egg Yolks
90 g Thick Coconut Cream
1 tbsp Pandan Juice
1/2 tsp Pandan Paste
Pinch of Salt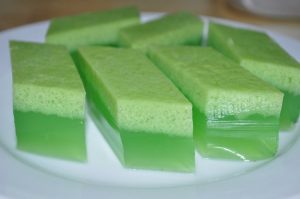 DIRECTIONS:
Bring Group1 (Agar Agar Powder, Rock Sugar, Water) to boil. Stir constantly and simmer for 20mins.
Beat egg yolks lightly with the salt.
Add in the coconut cream and the pandan juice & paste.
Pour mixture into the agar agar. Stir and turn off the fire.
Pour into mould and chill in the fridge till set.