Spanish meatballs, "albondigas", make an authentic addition to your tapas selection! These delicious meatballs are served as tapas, but can easily be turned into a meal by serving them with pasta or crusty bread and a salad. 
Cuisine : European Course : Appetizer Skill Level : Novice
Prep : 20 mins Cook : 40 mins Ready in : 60 mins Serves : 6-8

---
INGREDIENTS:
1kg Minced (½ kg Beef or veal with ½ kg Pork)
½ cup Fresh milk
1 Egg
4 cloves Garlic, chopped
½ cup Breadcrumbs
1 tbsp Mixed herbs
1 tbsp Sweet paprika
Flour to coat meatballs
3 tbsp Chopped fresh parsley
Salt and Pepper to taste
Olive oil for frying
For the Sauce
Olive oil for sautéing
3 Large onions, chopped
3 tbsp Garlic, chopped
1 cup Flour
1 cup White wine
2 pcs Vegetables stock
Bay leaf
Salt and pepper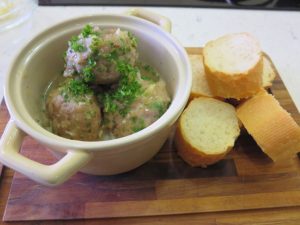 DIRECTIONS:
Place the meat, parsley, garlic, egg, breadcrumbs, paprika, mix herbs, pepper and a pinch of salt into a bowl and mix well. Shape the mixture into small balls, rolling them between the palms of your hands. Lightly coat the meatballs in the flour.
Heat the oil in a skillet or frying pan. Add the meatballs, in batches, and cook over medium heat, turning frequently, until golden brown all over. Using a slotted spoon, transfer the meatballs to a pan, arranging them in a single layer.


For the Sauce

To make the sauce, heat the oil in another skillet. Fry the onions until golden brown add the chopped garlic and then add a tablespoon of flour to the pot. Stir in a bit more flour to thicken (before adding any liquid, otherwise the flour will become bumpy), and then add the white wine, 1 cup of vegetables stock and bay leaf.

Keep the pot on high heat and add the browned meatballs to the pot, covering them with a bit more water if necessary.

Bring to a boil, and then lower heat to simmer for 20 minutes during which time the meatballs will cook fully inside.

Add salt and pepper to taste. Serve the meatballs with a full-bodied, Spanish wine.

Note: You can also make the meatballs with ground veal or a mixture of ground beef and pork. Simmer veal meatballs for 10 minutes only.