Chef Trish Yee shares her homemade Mee Hoon Kuay recipe! The Ajitsuke Tamago (Lava Egg) takes the dish to another level with its sightly runny, creamy yolk and it goes perfectly with the homemade noodles! 
Cuisine : Asian Course : Main Skill Level : Novice
Prep : 60 mins Cook : 30 mins Ready in : 90 mins Serves : 2

---
INGREDIENTS:
Noodle Dough 

300g All Purpose Flour
160g Water
2 Eggs
½ tsp Salt
Soup Base
500g Ikan Bilis
1 litre Water
100g Yellow Beans

Ajitsuke Tamago (Lava Egg)

1 cup Sake
½ cup Soy Sauce
½ cup Mirin
4 eggs

Dipping Sauce

4 tbsp Soya Sauce
2 Chili Padi
1 Lime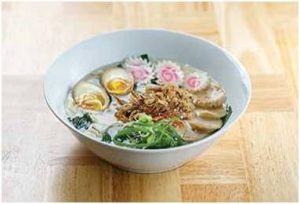 DIRECTIONS:
Mix all the ingredients for making the Mee Hoon Kuay together to form dough. Place dough in a plastic wrap and set aside for 30 minutes.
In a pot of boiling water, boil eggs for 5.5 minutes. Remove from heat and soak in ice water for 5 minutes. Remove the shell and soak eggs in the seasoning sauce for 15 minutes. Set aside.
In a heated pan, add 2 tbsp of oil and fry the ikan billis with two slices of ginger till it turned golden brown for about 10mins. Remove from pan, drain the excess oil away and set aside.
In a large pot, bring 1 litre of water to boil and add in the ikan billis and soy beans to boil for 20 minutes.
Flatten the dough and using the TITANIA pasta machine, roll the dough to the thickness desired, and repeat for at least two times to get a smooth texture.
You may cut the noodles to your desired thickness using the 2 mm (for you mian) or 6.5 mm (ban mian).
Throw the noodles in the pot and boil till for 2-3 minutes. Add in some vegetables and boil for another few minutes before turning off the heat.
Serve the Mee Hoon Kuay in large bowl, top with minced meat and egg or your desired toppings.
Garnish with fried ikan billis and spring onions.
Enjoy the Mee Hoon Kuay with the Dipping Sauce.