Pan-Seared Salmon with Potatoes & Crabmeat Salad
by Andrea Lim & Leonard Foo
Flaky, moist pan-seared salmon with crispy skin served with potatoes & crabmeat salad will leave you wanting more.
Cuisine : European Course : Main Skill Level : Novice
Prep : 30 mins Cook : 30 mins Ready in : 60 mins Serves : 1 Serving
---
INGREDIENTS
170-180g Salmon Fillet
200g Idaho Potatoes
50g Pasteurised Crabmeat
2g Chives
30g Spinach Leaves
Balasmic Vinegar as needed
Olive Oil as needed
40g Cherry Tomatoes
Lemon Juice as needed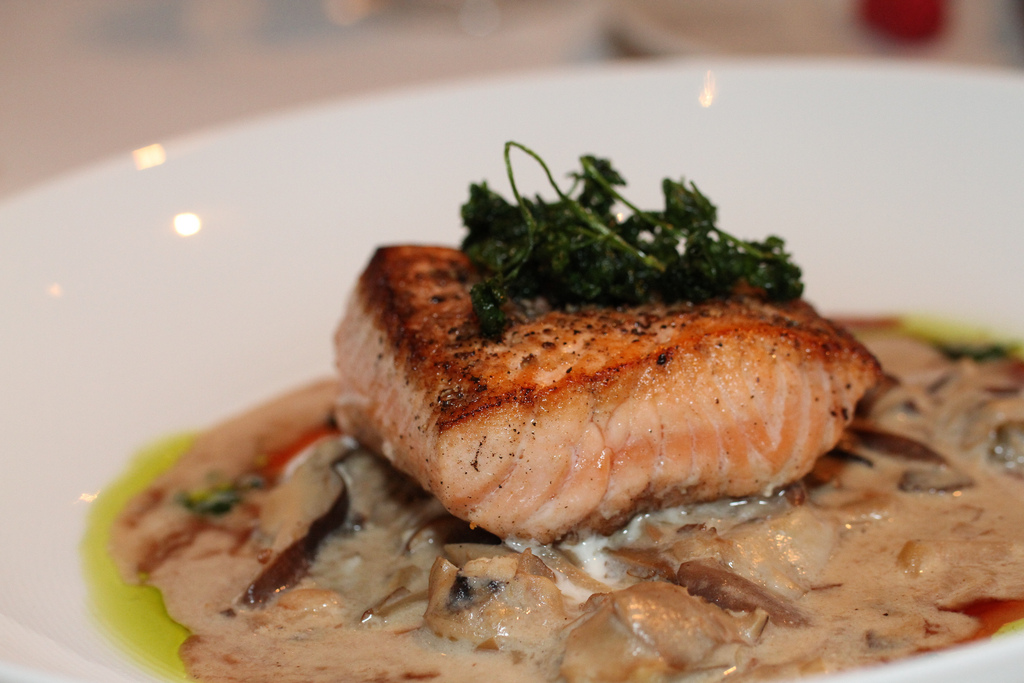 DIRECTIONS FOR PAN-SEARED SALMON:
Vacuum the salmon & sous vide for 15 minutes at 53˚C.
Remove from the bag and sear the skin side down until golden brown.
Season to taste.
DIRECTIONS FOR POTATO & CRABMEAT SALAD:
Cook the potatoes in boiling water.
When the potatoes are cooled down, lightly crush it with a fork.
In a bowl, mix the crabmeat with crushed potatoes, add chives and lemon juice & season to taste.
DIRECTIONS FOR VEGETABLES:
Lightly sauté the spinach and season with salt & pepper.
Cut the cherry tomatoes in half and toss with balsamic vinegar.