Try out this Handmade Angel Hair Pasta with Grilled Tiger Prawns recipe from Chef Michele for a scrumptious dinner!
Cuisine : European  Course : Main  Skill Level : Novice
Prep : 35 mins Cook : 15 mins Ready in : 50 mins Serves : 2-4 Servings
---
INGREDIENTS
Fresh Pasta

50g Oo Pasta Flour
50g Semolina Flour
1 Small Egg

1 tbsp Olive oil, once around the pan in a slow stream
1tbsp Butter
½ Yellow Onion, minced
½ Carrot
1 can Crushed Tomatoes
Coarse Salt and Pepper
2 tbsp Beef Stock
Dash of Lea and Perrin Sauce
100g Beef Minced
Fresh Basil and Parsley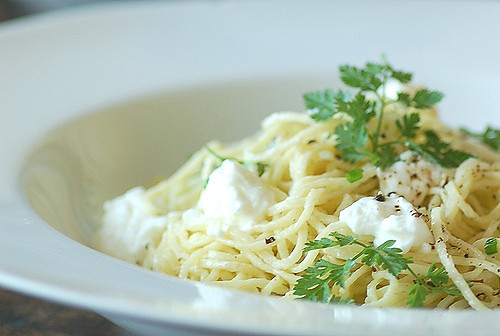 DIRECTIONS                                              
For Fresh Pasta, knead all ingredients into a ball. Allow it to rest for 20 minutes before passing through pasta machine.
Heat a large skillet over moderate heat.
Season prawns with salt and pepper. Add butter and cook prawns until 90% cooked. Remove.
Add oil and diced onions. Gently sauté onions for 3 to 5 minutes to develop their sweetness. Then add carrots and anchovies. Add tomato sauce/ puree and 100ml of water. Bring sauce to a bubble and reduce heat to simmer. Season with salt and pepper. Finish with cream if desired.
While sauce simmers, cook pasta in salted boiling water until cooked.
When sauce returns to a bubble, remove it from heat. Drain pasta. Toss hot pasta with sauce and plate.