A delicious Pan-Seared Halibut with luscious green pea mashed with a refreshing side of fennel side is prepared to perfection.
Cuisine : European Course : Main Skill Level : Novice
Prep : 15 mins Cook : 35 mins Ready in : 50 mins Serves : 1 Serving
---
INGREDIENTS:
160g Halibut
40g Green Peas
10g Fennel
1no Lemon
2g Oil
1no Orange
Parsley (garnish)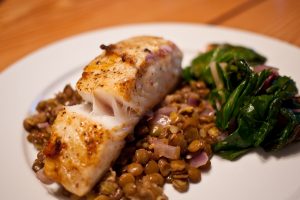 DIRECTIONS FOR HALIBUT
Season the Halibut.
Pan-sear the fish on the pan over med-high heat till golden brown.
DIRECTIONS FOR GREEN PEAS MASHED
Heat up the green pea on a pan.
Add some butter and transfer into a mixing bowl.
Lightly blend the green pea and add some water if needed.
DIRECTIONS FOR FENNEL SALAD
Thinly slice the fennel and soak in ice water for at least 5 minutes.
Remove fennel from ice water and dress it with lemon juice and olive oil.
Lastly add in the orange segment and season to taste.