Prepare this deeply flavour and moist Grilled Five-Spice Chicken for your next family gathering!
Cuisine : Asian Course : Main Skill Level : Novice
Prep : 20hrs Cook : 120 mins Ready in : 22 hrs Serves : 4-6 Servings
---
INGREDIENTS:
1 Chicken
Salt
Five-spice Powder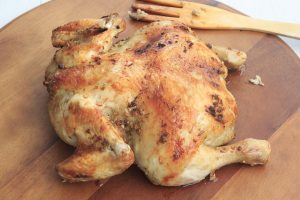 DIRECTIONS 
Massage abs rub salt into chicken skin ; leave overnight in fridge.
Shake off salt and fridge for another 12 hours.
Rub 5 spice powder.
Bake at 45m breast side down until internal temperature is 65C.
Turn breast side up then grill until golden brown (about 15min).
Rest for at least 20 minutes before cutting and serving.