Fish fillets are seasoned with salt and pepper then dusted with flour before pan frying. The romesco sauce is made by sweating the bell peppers then blending it. Garlic, olive oil, paprika, almonds and red wine vinegar are incorporated into the blender to form a purée.
Cuisine : European Course : Main Skill Level : Novice
Prep : 25 mins Cook : 10 mins Ready in : 35 mins Serves : 4

---
INGREDIENTS:
8 pieces of Fish Fillets (Pacific Dory, Snapper, Seabass) – 70g each
Salt and Pepper
Flour (for dusting)
Oil (for pan frying)
Sauce
2 Large Red Bell Peppers (grill until charred and blistered)
4 tbsp Extra Virgin Olive Oil
2 tbsp Garlic (chopped)
1 tbsp Paprika Powder
100g Almonds (toasted)
200ml Extra Virgin Olive Oil
2 tbsp Red Wine Vinegar
Salt (to taste)
Tabasco Sauce (to taste)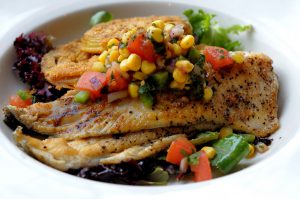 DIRECTIONS:
Sweat the grilled peppers in an airtight plastic bag for 15 minutes. Peel off blistered skin and seeds. Put the bell pepper into a juice blender.
Add garlic with 4 tbsps olive to the bell peppers. Mix in paprika, almonds and red wine vinegar.
Pulse the blender mixture to a smooth puree, adding the remaining olive oil along the way. Season with salt and dash some Tabasco to spice up the sauce.
Season fish fillets with salt and pepper. Dust with flour and pan fry till cooked.
Serve with romesco sauce.