Everyone loves mee rebus but perfecting the sauce is a challenge so here is the secret! Chili paste and spice paste are fried till fragrant then combined with dried shrimps and peanuts. Ingredients for gravy are then mixed together and brought to boil. The noodles are blanched and covered in spoonfuls of sauce.
Cuisine : Asian Course : Main Skill Level : Novice
Prep : 15 mins Cook : 20 mins Ready in : 35 mins Serves : 2

---
INGREDIENTS:
Gravy
100ml Oil (for cooking)
50g Spice Paste (rempah)
100g Chilli Paste
30g Dried Shrimp (coarsely grounded)
50g Taucheo (fermented bean paste)
10g Curry Powder
170g Sweet Potatoes
50g Coarse Grounded Roasted Peanuts
1 litre of Water
80ml Coconut Milk
30g Gula Melaka
1 tbsp Dark Soya Sauce
½ tsp Salt (to taste)
Garnish (per portion)
120g Yellow Noodles
50g Bean Sprouts
40g Bean Curd (fried and cut into cubes)
3 pieces of Fresh Prawns (blanched)
10g Fried Shallots
5g Chinese Celery (chopped)
1 Egg (hard boiled, sliced)
1 Calamansi Lime
Fresh Green Chillies (sliced)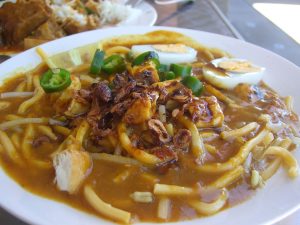 DIRECTIONS:
Heat oil, fry spice paste and chili paste till fragrant. Add dried shrimps and peanuts and continue to fry for another 3 minutes.
Mix in taucheo, curry powder, sweet potatoes and peanuts; pour in water and coconut milk. Bring to boil, add gula melaka and kicap manis. Simmer till potatoes are tender.
Blend gravy and season with salt.
To serve, blanch noodles and bean sprouts for 1 minute. Spoon about 150g of sauce for each portion. Garnish with bean curd, fried shallots, chopped Chinese Celery, sliced hard boiled egg and a calamansi lime. Serve with fresh green chilies.