Chicken Liver Salad with Quail Egg, Croutons and Red Wine & Shallot Dressing
by Susanne Despature

Chicken Liver Salad with quail eggs and croutons is perfect for the warm Singapore weather, as it won't require you slaving over the stove. Wash your salad greens, cook the greens and make a rich red wine and shallot dressing. Serve the salad base with a fragrant fried chicken liver as an elegant appetizer.
Cuisine : European Course : Appetizer Skill Level : Novice
Prep : 15 mins Cook : 15 mins Ready in : 30 mins Serves : 6

---
INGREDIENTS:
300g Chicken Liver (trimmed, sinew removed, chopped in bite-sized pieces)
2 tbsp Clarified Butter (butter without buttermilk)
Salt and Pepper
100g Streaky Bacon (chopped in fine pieces)
100g Toast Bread (white, cut into 1cm cubes)
1 clove of Garlic (cut in half with skin on)
1 tbsp Clarified Butter
8 Quail Eggs (boiled, peeled, cut in half)
Salt, Pepper, Balsamic Vinegar Cream
200g Mixed Salad with Rocket, Oak Salad Leaves, Baby Spinach
2-3 sprigs of Spring Onion

Red Wine & Garlic Dressing

6 tbsp Extra Virgin Olive Oil
2 tbsp Raspberry Vinegar (or Red Wine Vinegar)
1 tbsp Balsamic Vinegar
1 clove of Garlic (peeled and chopped finely)
1 tsp Dijon Mustard
½ tsp Concentrated Chicken Stock
Salt and Pepper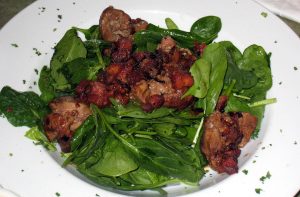 DIRECTIONS:
          For Salad & Dressing
Wash salad leaves and toss them. Place the leaves, in the middle of plates.

Combine all the ingredients for dressing in a medium bowl and whisk. Set aside.

For Bread Crouton

In a coated pan, heat up 1 tbsp of butter, add the bread croutons and the garlic, then fry over medium heat until golden brown and crisp.

Put in a bowl, set aside.

For Streaky Bacon

In the same pan, still hot, add the bacon and fry until crisp and golden – drain on kitchen paper, set aside.

For Chicken Liver

In the same pan, add 2 tbsp of butter. Season the chicken liver to taste with salt and pepper, then pan fry over high heat on all sides, for 1-2 minutes or until light brown, but still pink inside (if overcooked, the taste isn't the same!)

Remove from pan on a warm plate.

To Serve

Sprinkle some chopped spring onion over the salad leaves, then garnish with bread crumbs, crispy streaky bacon and chicken liver.

Pour the dressing over the salad and serve with baguette.

*Tip: How to boil the perfect quail egg

Fill a small saucepan two thirds full with water and bring to the boil. Place quail eggs into pan. Do not overcrowd the pan.

Boil for 2.5 to 3 minutes depending on your preference.

Remove with a slotted spoon and cool down under cold running water or in a bowl filled with ice water.

Peel very carefully in a bowl with water.