Learn to make Otah Otah from scratch and add a spin on this local delight by pairing it with bruschetta.
Cuisine : Asian Course : Appetizer Skill Level : Novice
Prep : 20 mins Cook : 10 mins
Ready in : 30 mins Serves : 8-10
---
INGREDIENTS:
1) 250g White fish fillets (Group A)
2) 115ml Thick coconut milk (Group A)
3) 1 Eggs, lightly beaten (Group A)
4) 4 pcs Kaffir lime leaves, finely sliced (Group A)
5) 1/4 tsp Salt (Group A)
6) 1/4 tsp Sugar (Group A)
Ingredients for the Paste
7) 2 Fresh Red chilies (Group B)
8) 10 Dried Chili, cut and soften (Group B)
9) 1 stalk Lemongrass, finely slice (Group B)
10) 2 petals Ginger Flower Bud, finely sliced (Group B)
11) 5 pcs Candlenuts, roasted (pound) (Group B)
12) 1/2 pc Shrimp Paste approx. (1.5 x 1.5 x 3 or 4 inches thick) (Group B)
13) 2 cloves Garlic, sliced (Group B)
14) 3 Shallots, finely sliced (Group B)
15) 1-inch of Galangal finely sliced (Group B)
16) 1-inch of Fresh turmeric, (cut into smaller pieces) (Group B)
17) 8-10 slices Baguette bread (Group B)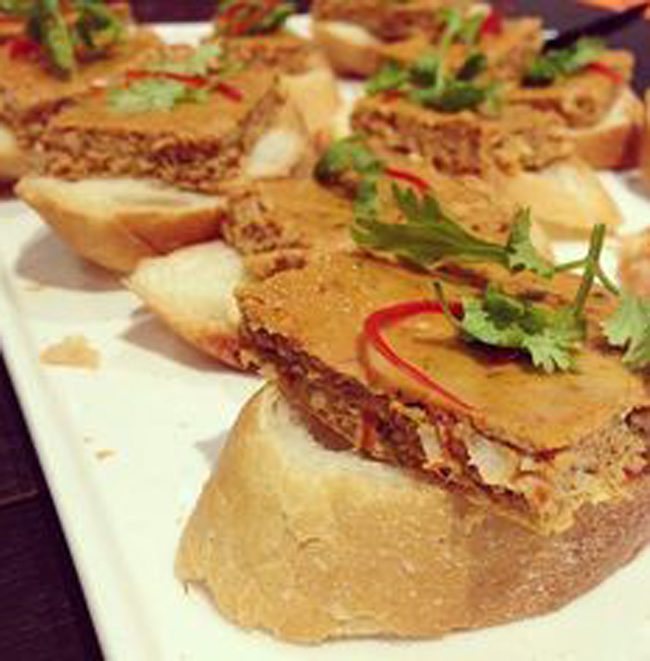 DIRECTIONS:
Clean fish and chop/pound them roughly into a fish paste.
Blend all paste ingredients in Group B in a blender.
If you want it to taste even better, pound the spices using mortar and pestle instead.
In a frying pan, heat up oil and sauté (B) until fragrant and dry.
In another large mixing bowl, add in (A) and (B) and mix them thoroughly.
Drizzle some olive oil onto the sliced baguette.
Place a heap of the otah nicely onto the bread.
Arrange on a baking tray and bake them at 180 degrees for about 8-10 mins.
Garnish with coriander leaves and a drop of thick coconut cream.
Serve!