Enjoy your weekend with these delightful and easy-to-bake Oreo Cheesecake Cupcakes by Chef Michele Ow!
Cuisine : Baking Course : Dessert Skill Level : Novice
Prep : 15 mins Cook : 25 mins Ready in : 40 mins Serves : 4

---
INGREDIENTS:
6 no. Oreo cookies (4 left whole for the bottom of the cupcakes and 2 chopped for the filling)
30g Icing sugar
200g Cream cheese
30g Egg whites
Pinch of salt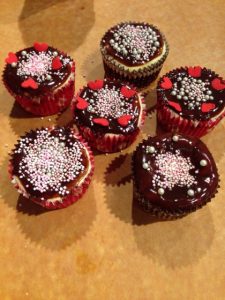 DIRECTIONS:
Preheat oven to 150°C. Line standard muffin tins with paper liners and place 1 whole Oreo cookie in the bottom of each cup.
Beat together cream cheese and powdered sugar until it's smooth.
Add eggs whites and mix until combined but use medium speed and do not over mix it.
Add pinch of salt and mix.
Fold in coarsely chopped Oreo cookies.
Fill each cup over the Oreo cookie , almost to the top.
Bake for about 25 minutes (until the center appears set and the toothpick inserted in the center comes out clean).