Following the heels of the savoury pork dish, comes an equally delightful Fried Rice with Jinhua Ham and Cabbage. Taste the heavenly fried rice with dry-cured Jinhua Ham that simply spells bliss.
Cuisine : Asian  Course : Main Skill Level : Novice
Prep : 10 mins Cook : 20 mins Ready in : 30 mins Serves : 6

---
INGREDIENTS:
8 tbsp Oil
4 Large Eggs (beaten)
1 tbsp Chopped Garlic
200g Kailan Stalks/Cabbage (diced)
1 tbsp Fish Sauce
80g Diced Jinhua Ham
150g Peeled Small Shrimps (blanched)
5 cups of Cooked Rice
2 tbsp Concentrated Chicken or Scallop Stock
2 stalks of Spring Onions (diced)
½ tsp Coarse Ground Pepper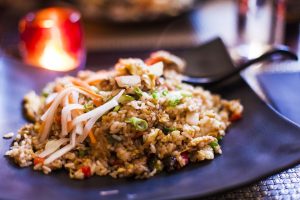 DIRECTIONS:
Heat oil in wok and scramble the eggs till foamy. Add the garlic, cabbage and fish sauce, sauté till fragrant.
Add Jinhua Ham and blanched fresh shrimps and. Cook for two minutes.
Mix in the cooked rice and fry until well mixed. Season with concentrated chicken or scallop stock. Add spring onions and pepper, toss evenly and serve immediately.