Sink your teeth into this classic Nonya Kueh, Onde Onde which is Sweet Potato Balls coated with coconut and oozing Gula Melaka.
Cuisine : Baking Course : Dessert Skill Level : Novice
Prep : 30 mins Cook : 10 mins Ready in : 40 mins Serves : 12

---
INGREDIENTS:
200g Sweet potato
110g Glutinous rice
60g Boiled hot water
1 tbsp Fine sugar
A pinch of salt
130g Gula melaka (chopped finely)
100g Steamed white grated coconut with ¼ tsp of salt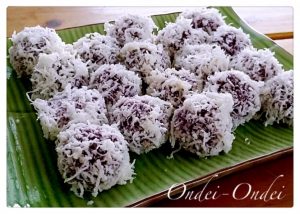 DIRECTIONS:
Mix the hot mashed sweet potato, glutinous rice flour, sugar, salt, pandan paste & hot boiling water into the mixer & beat till a smooth dough is formed.
Divide into 10gm portion. Cover the dough and rest for 10mins.
Flatten each piece into round shape & wrap 10gm of Gula Melaka mixture in it.
Bring a big pot of water to boil. Add in pandan leaf and simmer for 10mins.
Put in the balls & cook under medium heat till they float up.
Coat with desiccated coconut immediately.