This recipe for Orange Infused Chicken Chop is as easy as it gets. Perfect for weekday dinners!
Cuisine : Asian Course : Main Skill Level : Novice
Prep : 60 mins Cook : 45 mins Ready in : 105 mins Serves : 2

---
INGREDIENTS:
2 Boneless chicken thighs (Halved)
½ cup Lee Kum Kee Chicken Marinade
1 Lee Kum Kee Chicken Marinade
¼ teaspoon Orange (zest the orange and put aside)
2 tablespoon Pepper
Honey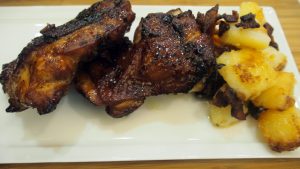 DIRECTIONS:
Pre-heat oven grill to 180ºC.
Place the chicken thighs in a bowl and add the chicken marinade, pepper, honey, orange zest, and squeeze the juice of the orange. Toss to combine well.
Allow this to stand for at least one hour (Preferably overnight).
Heat a non-stick pan on high heat, sear the chicken skin side down till the skin has colour. About 5 minutes. (Add a touch of oil before searing).
Flip the thighs and continue searing for another 3 minutes.
Place the chicken thighs into the grill for 25-35 minutes till the juices run clear. (the timing depends on the thickness of the chicken).