Switch up your chocolate cupcake recipe to this moist and rich zucchini chocolate cupcake with Orange Scented Chocolate Swiss Meringue for the perfect summer dessert!
Cuisine : Baking Course : Dessert Skill Level : Novice
Prep : 20 mins Cook : 13 mins Ready in : 38 mins Serves : 12

---
INGREDIENTS:
70g Unsalted Butter, Melted or Vegetable Oil (A)
1 Whole Eggs (65g with shell)
70g Zucchini, Coarsely Grated
95g White Caster Sugar (A)
20g Cocoa Powder (A)
75g Cake Flour
1g or 1/8 teasp Baking Soda
4g or 1teasp Baking Powder
2g Salt
2 Egg whites from 65g eggs
60g White Caster Sugar (B)
170g Unsalted Butter, Cubed (Softened but cold) (B)
10-15g Cocoa Powder, sifted (B)
Zest of 1 Orange
1/2 teasp Orange Extract (Optional)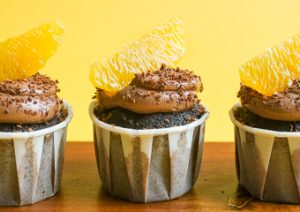 DIRECTIONS:
Preheat oven to 180°C without fan.
Directions: One Bowl Method.
Melt Butter and set aside to cool.
Mix eggs(A), zucchini and melted butter (or oil)(A) till well combined.
Sift all dry ingredients into bowl. Mix to combine.
Using a whisk, slowly add wet mixture into dry mixture till combined.
Fill cupcake liners halfway.
Bake for 11-13mins till a cake tester comes out clean.
*Can be kept at room temperature for up to 3 days.
Prepare a Bain Marie/Water Bath.
Combine egg whites and sugar (B) in a grease proof metal/glass bowl.
Over a steaming Bain Marie, heat the mixture gently while stirring regularly.
To test if the egg white mixture is ready, rub it between your fingers to feel if the sugar has dissolved.
Once ready, remove from the heat.
Using the whisk attachment, start at med till a solid white meringue forms and then switch to Med High.
Once the mixing bowl feels cool to touch, switch to the Paddle attachment.
At low speed, add butter cubes one at a time until fully incorporated.
Turn to med high speed and whip for 2-5mins.
Add sifted cocoa powder (B), zest and orange extract. Whip till incorporated.
*Can be kept in the chiller for up to 3 days.