This simple and fluffy Caramelized Onion Scone is the perfect afternoon treat! The caramelized onions give it a touch of sweetness to the savoury scone!
Cuisine : Baking Course : Appetizer Skill Level : Novice
Prep : 20 mins Cook : 25 mins Ready in : 45 mins Serves : 4

---
INGREDIENTS:
100g Olive oil
4 no. White onions, thinly sliced
3 cloves Garlic
Salt & pepper to season
For the Scones
310g All purpose flour
8g Baking powder
2g Baking soda
4g Salt
60g Grated cheddar cheese
110g Unsalted butter (cold)
190g Liquid cream
½ cup Caramelised onions
¼ cup Scallions
Black pepper to taste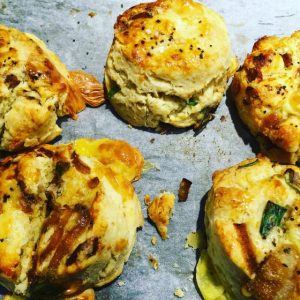 DIRECTIONS:
         For the Caramelized Onions
In hot pan, heat up the olive oil and 3 cloves of garlic.

Add the onions and sauté until it caramelized and turn golden brown.

Season with salt and black pepper to taste.

Set aside to cool and use as required.

For the Scones

Pre-heat the oven to 200°C.

In a food processor with steel blade, combine the flour, baking powder, baking soda, salt and cheese and process on low to incorporate.

Scatter the cold butter over the mixture and pulse for a few times until mixture turns crumbly.

Pour mixture into a large bowl and add the scallion and caramelized onions.

Add the cream and mix with a fork to resemble a rough dough. DO NOT OVERMIX!

Sprinkle black pepper to taste.

Roll the dough gently to about 2.5 cm in height.

Cut using a stainless steel cutter.

Brush the top of scones with beaten eggs and sprinkle some sea salt flakes.

Bake the scones for approximately 15-20 minutes till golden brown.

Serve warm.