Impress your friends and family with delicious sticky buns with zesty orange and sweet caramel by Chef Thripti!
Cuisine : Baking Course : Condiment Skill Level : Novice
Prep : 60 mins Cook : 30 mins Ready in : 90 mins Serves : 6-8 Servings

---
INGREDIENTS:
Ingredients for Dough
1/2 cup Low Fat Milk
1 Egg
45g (3tbsp) Butter, Soft
1/2 tsp Salt
1/4 cup Sugar
2 cups Bread Flour
1/2 tsp Ground Cinnamon
1 1/2 tsp Instant Dried Yeast
Ingredients for the Topping
1/2 cup Corn Syrup
1/2 Orange Juice
Zest of 1 orange
30g (2tbsp) Butter
1 cup Packed Brown Sugar
3/4 cup Slightly Toasted Almonds
Ingredients for the Filling
30g (2tbsp) Butter
1/3 cup Brown Sugar
1 tsp Cinnamon Powder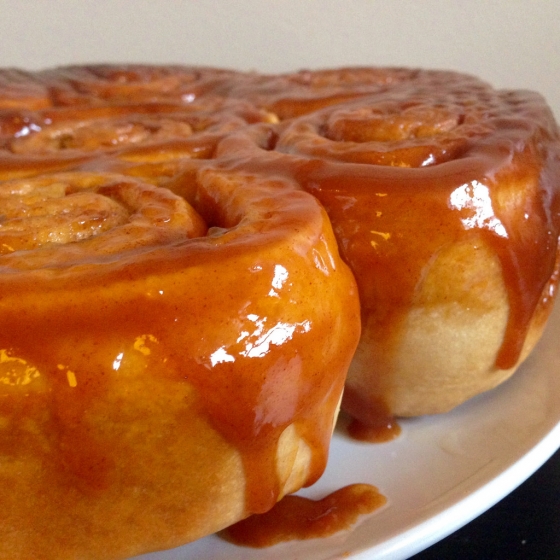 DIRECTIONS:
Place all the dough ingredients in the order mentioned into the bread pan and select the dough cycle.
Prepare the topping while the machine makes the dough. Place all the ingredients except the almonds in a saucepan and bring the mixture to a full rolling boil for one minute.

Divide the mixture between two greased 9" cake tins.

Sprinkle over the sliced almonds.

When the cycle is complete, remove the dough to lightly floured surface and roll the dough to a 9/16" rectangle.

Brush the dough with a 2 tbsp of the soft butter. Mix the brown sugar with the cinnamon and sprinkle it over the dough.

Roll the dough tightly from the long side like a jelly roll.

Divide the roll into 16 pieces and place 8 pieces in one cake tin and the rest in the other.

Allow the dough to rise for 30mins or until double in size.

Bake at 180 C for 30 minutes. Halfway through the caking, cover the cake tins with a sheet of aluminium to prevent over browning.