Indulge this finger-licking good local favourite dish, Chili Crab with Mantou that will leave you wanting more.
Cuisine : Asian Course :  Main Skill Level : Novice
Prep : 115 mins Cook : 25 mins Ready in : 140 mins Serves : 2 Servings

---
INGREDIENTS:
Ingredients for Mantou
1 packet (11g) Yeast
30ml Warm water
400g Hong Kong flour
2g Salt
40g Sugar
1 tsp Vegetable oil
1 tsp Baking powder
1 tsp Baking soda – optional
200ml Milk
Ingredients for Chili Crab
8 tbsp Ketchup
1.5 cups Water
2 tbsp Sugar
2 tsp Cornflour
2 tsp Miso
6 cloves of Garlic
2 tbsp Chilli sauce
Crab, cleaned, in pieces
1 Egg
1 tsp Lime juice
2 sprigs Spring onions
Chopped coriander leaves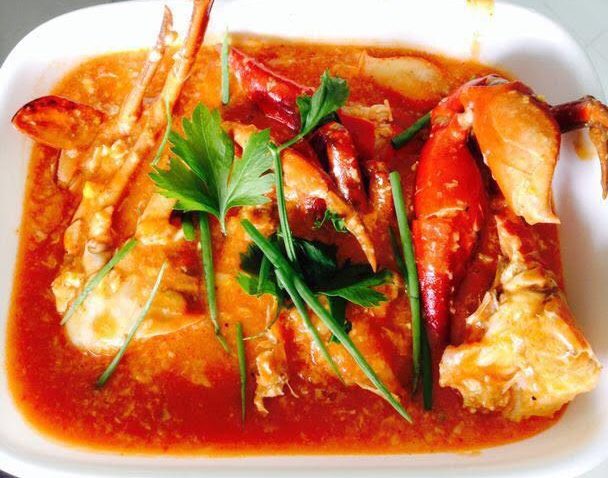 DIRECTIONS:
For Mantou, follow steps 2 to 8.
Activate yeast by adding yeast to 30ml warm water & wait 5mins.
In a mixing bowl with dough hook, add 400g Hong Kong flour, yeast mixture, salt, vegetable oil, baking powder, baking soda & milk. Mix for a few mins.

Remove and knead for a few mins.

Allow to rise for 1 hour.

Knead for 5 mins.

Cut and roll into logs for mantou and allow rising for 30m.

Steam for 10min.

For Chili Crab, follow steps 10 to 18.

Whisk ingredients for sauce together.

Mince garlic.

Fry garlic and chilli sauce.

Stir in crab.

Add sauce and combine quickly.

Cover and turn on high heat for 3-5m.

Break egg and combine in sauce for a few seconds.

Squeeze in 1 tsp lime juice.

Serve with spring onions & chopped coriander leaves.