Serve this delicious and typically Mediterranean dish as a canape or a sandwich, depending on the bread. Choose to go for cherry tomatoes if you could, they are much sweeter and juicier than the larger varieties, such as globe tomatoes.
Cuisine : European Course : Appetizer Skill Level : Novice
Prep : 20 mins Cook : 0 mins Ready in : 20 mins Serves : 6

---
INGREDIENTS:
1 tub of Naturel Olive Oil Spread
6 slices of Bread (toasted)
6 slices of Iberico Ham
200g Cherry Tomatoes (quartered)
½ Red Onion (diced)
2 tbsp of Naturel Extra Virgin Olive Oil
1 tbsp of Coriander (minced)
Salt and Pepper (to taste)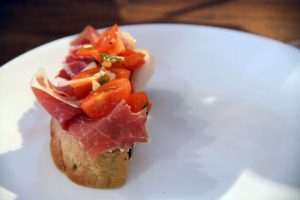 DIRECTIONS:
To make the tomato salsa, mix the tomatoes, garlic, onion and coriander.
Drizzle the Naturel olive oil and season to taste with salt and pepper. Stir and allow to infuse for a few minutes.
Spoon some Naturel olive spread on the toast and spread.
Lay a slice of Iberico ham and a dollop of tomato salsa before serving.