Buttery chocolate chip cookie dough, baked in a skillet, with a thick layer of Nutella hidden in the middle. Once baked, you'll end up with a golden brown cookie with crisp edges, a slightly under cooked middle.
Cuisine : Baking Course : Dessert Skill Level : Novice
Prep : 20 mins Cook : 30 mins Ready in : 50 mins Serves : 8

---
INGREDIENTS:
1/2 cup (115 g or 1 stick) Unsalted Butter, softened
1/2 cup (100 g) Granulated or Caster Sugar
1/2 cup (90 g) Brown Sugar
1 Large Egg
1 tsp Vanilla Extract
11/2 cups (210 g) All Purpose or Plain Flour
1/2 tsp Baking Soda
1/2 cup (75 g) Chocolate Chips, plus a few extra for decorating
1/2 cup (150 g) Nutella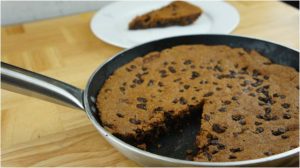 DIRECTIONS:
Coat skillet pan with butter
In a mixing bowl beat the butter, sugar, brown sugar, vanilla extract and mix it until pale and creamy. Add in egg and beat until combined. Add the sifted flour and baking soda and gently mix it in. Add in the chocolate ship and stir it.
Place half of the cookie dough onto your prepared skillet. Press down to form one even layer. Then, spread out the Nutella on top. Place the other half of the cookie dough above the Nutella and press down to form an even layer.
Bake the cookie at 175 C for 30 minutes.