This lovely Lemon Chicken Pasta is perfect for summer! The creamy sauce is has a decadent butter and light lemon flavor. Add as much parmesan as you'd like! 
Cuisine : European Course : Main Skill Level : Novice
Prep : 10 mins Cook : 10 mins Ready in : 20 mins Serves : 4-6

---
INGREDIENTS:
500g Pasta of your choice
4 Boneless, skinless chicken breast, about 750g, cut into bite-sized pieces
1 tbsp Olive Oil
4 tbsp/55g Butter
4 cloves Garlic, finely minced
4 Green Onions, thinly sliced
125ml Chicken Broth
125ml Heavy Cream
Zest and juice of 1 lemon, more as needed
Salt & Pepper, to taste
Freshly grated Parmesan to finish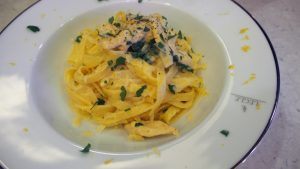 DIRECTIONS:
Bring a large pot of salted water to the boil. Add pasta and cook according to package directions or until al dente; drain, reserving some of the cooking water.
Meanwhile, heat the oil and 2 tablespoons of butter in a large frying pan over medium heat; add the chicken and brown for about 5 mins until lightly browned.
Add garlic to the pan with the chicken with the remaining 2 tablespoons of butter, and stir till fragrant then add the green onions. Pour in the broth, cream, lemon zest and lemon juice. Mix until the sauce thickents. Season with salt and pepper, to taste.
Add to the hot cooked pasta to the pan and stir around so the pasta absorbs the sauce. Add a little of the cooking water if need be to loosen the sauce.
Serve with Parmesan cheese, as much as you like!