Chef Trish Yee shares with us the devilishly good Durian Cream Puff which is the perfect finish to a meal!
Cuisine : Baking Course : Dessert Skill Level : Novice
Prep : 50 mins Cook : 35 mins Ready in : 85 mins Serves : 12

---
INGREDIENTS:
For the Durian Choux Pastry (A) Dry Mixture

65g Self-raising flour
1 tbsp Caster sugar
Pinch of Salt (omit the salt if you are using salted butter)

(B) Butter Mixture

60g Butter
120g/ml Milk
2 Large eggs
For the Durian Paste
150g Durian flesh
50g Whipping cream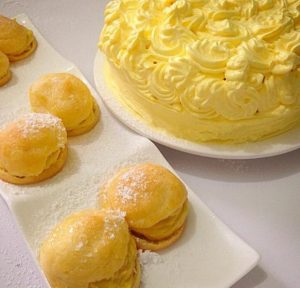 DIRECTIONS:
         For the Durian Choux Pastry
In a large bowl, sift ingredient (A) together and set aside.

In a heavy saucepan, add (B) and bring to boil and make sure butter has fully melted.

Turn the stove to low heat and stir in ingredient (A) at once. Stir vigorously to avoid lumps. Remove from heat once the mixture forms into dough ball and does not stick to the pan.

Add in the eggs one egg at a time and mix till the egg is incorporated in the batter, then add in another egg.

Scoop the batter into a piping bag and pipe the batter onto a baking tray greased with butter and leaving a 2 inch gap in between each puff.

Bake for 35 minutes for 150ºC and leave to complete cool on the cooling rack before piping in the durian paste.

Dust with icing sugar to finish.

For the Durian Paste

In a large bowl, whisk the whipping cream till stiff peak.

Using a food processor, give the durian meat a few pulses to make the paste smoother.

Fold the whipped cream into the durian mixture. Chill in the fridge till take it out when you are ready to use.