Start the day with this special fried rice, best served with a lightly fried egg, cucumber slices and prawn crackers!
Cuisine : Asian Course : Main Skill Level : Novice
Prep : 10 mins Cook : 12 mins Ready in : 22 mins Serves : 4

---
INGREDIENTS:
125ml Oil
5 Eggs
1 tbsp Chopped Garlic
½ Brown Skin Onion (chopped)
100g Beijing Cabbage (diced)
200g Fresh Prawn Meat (diced, blanched)
3 tbsp Sambal Chilli
1 tsp Belachan Powder
800g Cooked Rice
4 tbsp Ketchup
1 tbsp Fish Sauce
1 tsp Dark Soya Sauce (kicap manis)
80g Frozen Green Peas (thawed)
Garnish
Crispy Fried Shallots
Spring Onions (diced)
Sliced Red Chillies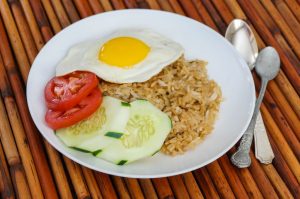 DIRECTIONS:
Heat oil, scramble eggs till foamy. Add garlic, onion and cabbage, sauté till fragrant.
Mix in sambal chili and belachan powder. Return cooked rice to wok and fry for a minute. Add ketchup, fish sauce and dark soya sauce, sauté for another 5 minutes over high heat.
Mix in green peas and toss for another minute, divide rice into 4 portions and serve with recommended garnishes.