Learn to make full use of okara, which are the remains during the production of soy milk and tofu, to make a delightful dessert! With Chef Julie's recipe, you can now make healthy Chocolate Okara Cake.
Cuisine : Baking Course : Dessert Skill Level : Novice
Prep : 15 mins Cook : 40 mins Ready in : 55 mins Serves : 6-8

---
INGREDIENTS:
Group 1 

180gm Butter
160gm Fine Sugar

Group 2 

4 Eggs
1 teasp Vanilla Paste
150gm Okara
3 tbsp Melted Chocolate
50gm Soya Milk (less sugar)
180gm Self-Raising Glour
1 tbsp Cocoa Powder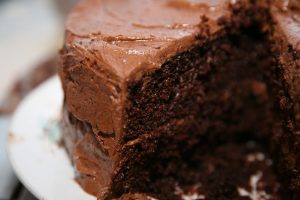 DIRECTIONS:
Cream butter and sugar till light.
Add in beaten eggs and vanilla paste gradually.
Add in the okara and melted chocolate.
Add in flour & soya milk alternately.
Bake at 170°C for about 40 minutes.