With fresh succulent mussels and a delightful garlic and white wine base, it complements the flavours nicely leave you wanting more!
Cuisine : European Course : Appetizer Skill Level : Novice
Prep : 5 mins Cook : 10 mins Ready in : 15 mins Serves : 2-4 Servings
---
INGREDIENTS:
½ kg Mussels
4 cloves Garlic, roughly chopped
Handful of Chopped Parsley
50ml White Wine
Butter, Olive Oil
Salt & Pepper
Chili Flakes – optional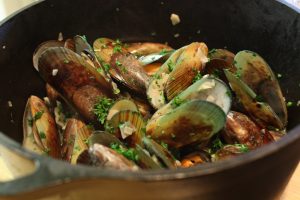 DIRECTIONS 
Heat butter and olive oil and fry garlic and chili flakes for a few minutes.
Add white wine, letting it bubble for 3-4 minutes.
Add mussels and toss.
Stir in parsley, season to taste.
Serve with fresh parsley as garnish.