Tempt your tastebud with a classic Mont Blanc Tart; with each bite you will taste the sweetness of chestnut and caramel overtone of the rum.
Cuisine : Baking Course : Dessert Skill Level : Novice
Prep : 40 mins Cook : 15 mins Ready in : 55 mins Serves : 2-4 Servings
---
INGREDIENTS:
Sugar Dough

105g Icing Sugar
135g Bread Flour
135g Cake Flour
105g Cold Butter, cubed
60g Egg

Mont Blanc Cream

360g Chestnut Paste
180g Chestnut Puree
180g Whipped Cream
27g Rum
2pcs Gelatine, bloomed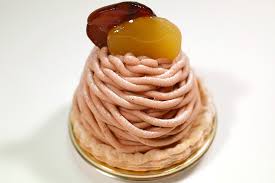 DIRECTIONS FOR SUGAR DOUGH
Combine icing sugar, cake flour, bread flour.
Cut cold butter into the flour mixture until mealy texture form.
Add eggs, mix until dough form.
Flatten the dough and rest inside chiller for later use.
Roll out to 3mm thickness and shape into tart mould.
Bake at 180 deg cel until golden brown.
Cool down before assembling.
DIRECTIONS FOR MONT BLANC CREAM
Bloom gelatin in cold water for 10 minutes.
Slightly microwave chestnut paste and chestnut puree to soften them.
Whip up cold cream using whisk.
Fold whipped cream into chestnut mixture.
Microwave to melt gelatine in rum.
Fold rum mixture into chestnut cream mixture.
Fill into piping bag and assemble accordingly.