Enjoy these light, crunchy Japanese Roasted Green Tea Cat's Tongue Biscuits with a  cup for your favourite tea for an afternoon treat!
Cuisine : European Course : Main Skill Level : Novice
Prep : 20 mins Cook : 8-12 mins Ready in : 28-32 mins Serves : 2-4 Servings
---
INGREDIENTS:
80g Butter
70g Caster Sugar
*Use icing sugar for a finer textured biscuit
80g Plain Flour
8g Houjicha Powder
2 Egg Whites from 60-65g Eggs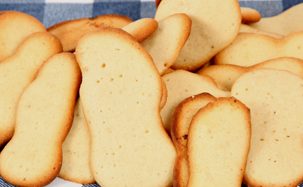 DIRECTIONS 
Preheat oven to 180°C.
Cream or whisk by hand butter & sugar till light and fluffy.
Mix in sifted flour & houjicha powder and mix till combined. Mix on slow.
Mix in egg whites till combined. Mix on slow.
Fill piping bags with batter.
Pipe 5-6cm per cookie and have a 5cm gap between each cookie on baking paper lined trays.
Bake for 8-12 minutes depending on the size of the cookie till the edges turn brown.
Keep in an airtight container for up to 4 weeks.