Monkey Bread, also known as Pull-Apart Cinnamon Sugar Bread, is a sweet and sinful cinnamon treat that is worth the calories!
Cuisine : Baking Course : Dessert Skill Level : Novice
Prep : 3 hrs Cook : 50 mins Ready in : 3 hrs 50 mins Serves : 1 serving
---
INGREDIENTS             
Bread Dough

140g Bread Flour
200g Wholemeal Flour
50g Sugar
½ tsp Salt
1 ½ tsp Yeast
210g Milk
40g Butter

Coating

30g Butter
55g Sugar
2g Cinnamon Powder

Glaze

30g Butter
60g Dark Brown Sugar
1 tsp Vanilla Extract
Melt 60g Butter with Dark Brown Sugar and Vanilla and set aside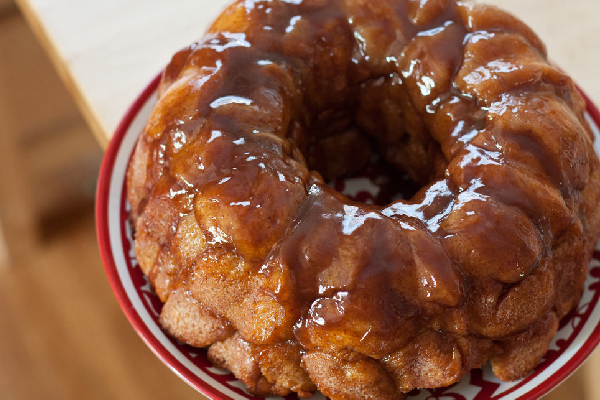 DIRECTIONS FOR BREAD DOUGH
Mix all dry ingredients in a mixer and using a dough hook mix till well combined.
Add milk till dough is formed.
Add softened butter and knead for 15 minutes or till dough is not sticky and forms a membrane when stretch.
Place dough in a greased container, cling wrap it and proof for 45 minutes or till it doubles its size.
Remove and divide them into small doughs (around 50g) and let them rest for 10 minutes
Roll out, fill and shape as desired.
Place shaped dough onto lined baking sheet and proof for 45 minutes.
Brush with milk.
Bake in a pre-heated oven for 15-18 minutes at 170°C.
Remove from baking sheet immediately and cool on rack.
DIRECTIONS FOR COATING
Melt butter and set aside.
Mix sugar and cinnamon powder and set aside.
DIRECTIONS FOR GLAZE
Roll dough into a round ball (15g), cover with clingfilm and let the dough rest for 15mins.
Shape it.
Dip cinnamon into melted butter, then roll in cinnamon sugar.
Repeat till all doughs are used up.
Allow dough to proof for 45 mins.
Preheat oven to 170C and prepare glaze.
Pour the buttery mixture over the dough ball and bake for 30-35 mins till golden brown.