Try this simple-to-make Nonya Kaya Apom recipe from Chef Julie for this Chinese New Year!
Cuisine : Baking Course : Dessert Skill Level : Novice
Prep : 40  Cook : 35 mins Ready in : 75 mins  Serves : 6-8 Servings
---
INGREDIENTS             
Apom

Group 1
Group 2

1 tsp Baking Powder
120g Cake Flour
¼ tsp Salt
1 tsp Vanilla Powder

Group 3

4 Egg White
30g Fine Sugar

Nonya Kaya

40g Pandan Juice
160g Sugar
200ml Coconut Cream
8 Egg Yolks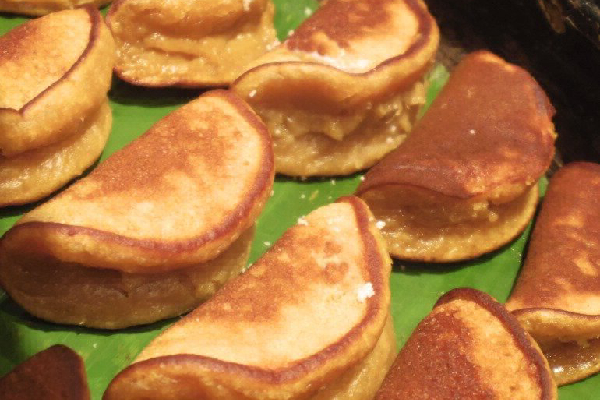 DIRECTIONS FOR APOM
Whisk (Group 1) together.
Add (Group 2) & mix well.
Whisk (Group 3) till soft peak.
Fold into the egg mixture, rest for 10 minutes.
Warm apom stick pan & cook the pancake.
DIRECTIONS FOR NONYA KAYA
To get pandan juice – cut 8 pandan leaves into 2cm long and add 3 tbsp water and blend till fine. Press out the juice to get 40ml.
Double boil the coconut cream with sugar till sugar dissolved.
Pour some coconut milk into the eggs yolks while whisking.
Pour the mixture back to the double boiler and cook till runny custard like. This will take about 15 minutes.